Our colleagues at IUCN gave us the sad news that Kathy MacKinnon has passed away, her colleagues at her organization dedicated the following words to her.
There are many ways to describe Kathy – friend, mentor, committed conservationist, scientist, passionate advocate, dedicated organizer, funny and inspired, to name just a few. Our hearts reach out to her three sons and grandchildren, who we heard much about. Kathy called IUCN's World Commission on Protected Areas her second family, where she made many deep friendships across the Union. 
"Kathy was an inspiration to the whole conservation community, within and beyond IUCN. Her dedication to the work of the Union on protected areas was unmatched. I am confident I speak on behalf of the Union when I say, the planet has lost one of its main defenders. You will be truly missed, Kathy." – Bruno Oberle, Director General, IUCN
"Kathy worked tirelessly, championing protected areas and OECMs as being critically important for biodiversity conservation. Nature has lost one of its greatest allies; we have a responsibility to honor her important legacy by continuing her work the best we can".- Madhu Rao, Chair, IUCN World Commission on Protected Areas
Kathy had a legendary career in conservation
She received her PhD in Zoology from Oxford University and spent ten years in Indonesia working on tropical ecology research and protected areas planning and management. She worked with many international and national conservation NGOs, as well as government agencies in developing countries.
For 16 years, Kathy was the Lead Biodiversity Specialist with the World Bank where she found ways to include conservation outcomes in development investments. She is the author of over 100 scientific books and publications, including recent books that promote protected areas as proven and sustainable natural solutions, helping societies to cope with climate change.
In 2007, she was awarded the Distinguished Service Award of the Society of Conservation Biology and in 2018, she was awarded the Midori Prize for Biodiversity.
Prominent in many international forums for protected areas
Kathy was on the International Steering Committee for the IUCN World Parks Congress 2014 held in Sydney, Australia, and a leading contributor to the development of the programme for that Congress, leading to the Promise of Sydney.
Serving firstly as Deputy Chair of the IUCN World Commission on Protected Areas, she then served two terms as Chair until 2021.  As an IUCN Councilor, she served on the Finance and Audit Committee, and most prominently in the Preparatory Committee for the IUCN Congress held in 2021 in Marseille. She was also a dedicated member of the World Protected Areas Leadership Forum. 
She was a constant member of IUCN's many delegations to the Convention on Biological Diversity and the Working Group implementing the Programme of Work on Protected Areas, the implementation of the far-reaching Target 11 on Protected Areas, and the negotiations towards the new 30×30 Target of the Global Biodiversity Framework. She became Chair of the Target 11 Partnership, working closely with the CBD to spur efforts to achieve all elements of the Target.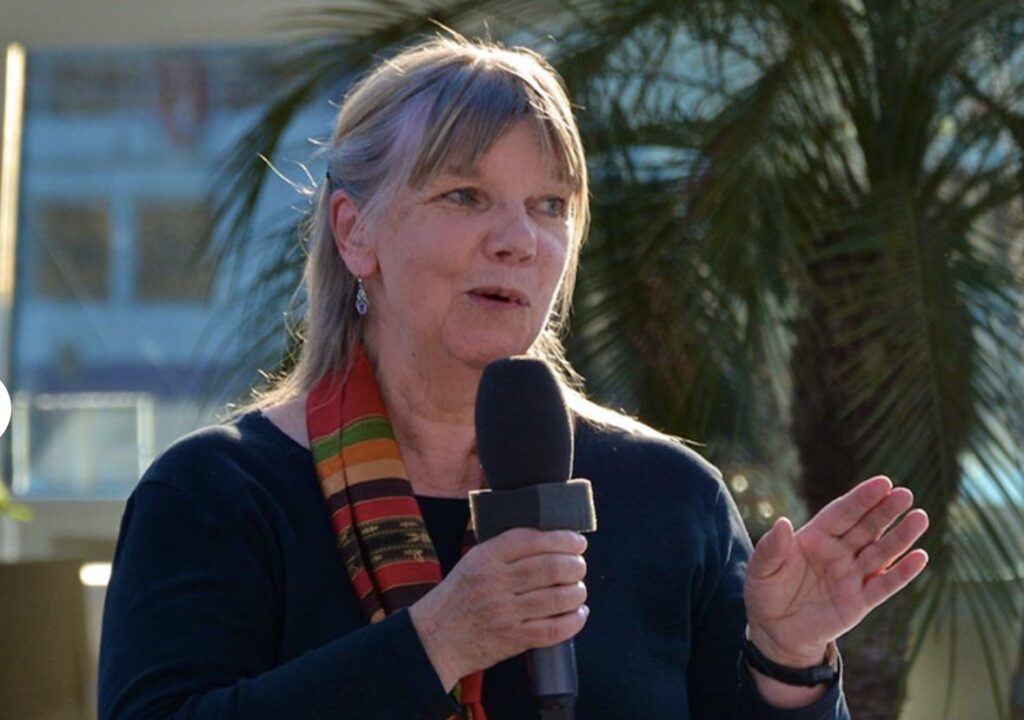 During this time, she was also very active in the many WCPA Specialist Groups and Task Forces that have defined international nature conservation policy and practice. In particular, she championed the linkages between protected areas and climate change adaptation and mitigation, and led the process for defining "other effective area-based conservation measures". 
In her words, "Protected areas of many kinds not only give sanctuary to the wonder of 4.5 billion years of evolution but, in holding species and ecosystems, they protect the fundamental underpinning of human livelihoods, economies and wellbeing. They are a key tool in maintaining the sustainability of life on Earth and in combating the ravages of climate change," 
As Chair, she was particularly dedicated to ensuring the WCPA produced high-quality guidance on many topics related to the governance and management of protected areas. She contributed to the development of the IUCN Green List Standard, and served as the Chair of the Green List Committee that placed the first sites on the IUCN Green List. 
Today we remember her courage, dedication, friendship and leadership in helping define contemporary approaches and challenges for protected and conserved areas worldwide, and the way in which she inspired so many.  
WUP sends its condolences to her family, colleagues and friends and recognizes all the collaborative efforts she made for the organizations, and the world. Please feel free to reflect on your own experience and memory of Kathy in the comments section here.